Building outstanding
teams who grow
thriving businesses.
Recruiting Partnerships Include…
We believe super star candidates aren't found, they're made.
What's our
secret process?
By coaching our candidates through the STARR process ahead of meeting your company, they are ready to shine. And, it's by design.
Rather than making cold introductions, as a recruiting partner we will introduce you to pre-vetted, pre-screened, and pre-coached candidates who know the STARR interview framework.
How Does Meeting Onsite-Ready, STARR Candidates Help Your Hiring Process?
57% reduction in number of candidates interviewed​
63% more likely to make an offer to a JSA candidate who is onsite STARR ready
0% up front cost to receive an onsite-ready, STARR candidate
2-3 candidates make it to the final round. 100% of these are STARR prepared in Tech Leadership interviews.
60% of hiring managers will hire confident candidates who are practiced in interview skills.
87% of GHN clients who had 3 onsite job interviews received job offers.
Job Families of Specialization Include:
Relationship Based
Recruiting
CEO & Principal Recruiter Ron Nash has consulted with Fortune 50-500 companies including Amazon, Facebook/META, Samsung, Microsoft, Allergan, Herbalife, and The Anthony Robbins Companies. His expertise and skill to affect company culture, add specialized team members and create custom tailored strategies has led to the success of organizations as well as the achievement of career goals of countless individuals. Combining his experience in recruiting, headhunting, and HR consulting, CRN has built a top notch team of recruiters who are trained in relationship-based recruiting.
Simulate Tough Interviews
for Candidates
Our candidates are prepared for prime time with the 7-Step STARR interview process. This means that when you meet our candidates, you are meeting individuals who are not just pre-screened but pre-prepared for the actual interview loop. By performing simulated interviews with candidates before they meet you, we save you more time in your hiring cycle.
Deploy STARR-Interview
Trained Recruiters
We believe STARRs are made, not born. Every recruiter on our team undergoes extensive training in the STARR interview framework. Additionally, recruiters receive ongoing training in the best practices for behavioral based interviewing and applied positive psychology to deliver the best candidate experience.
Mine the Private
Career Network
For 2+ decades, we have been curating a private career network with high net worth individuals in the technology field. As recruiters, this gives us first-access to unlisted jobs as well as provides us with a deep referral network for enhanced candidate placement options.
Commitment to an Exceptional Candidate Experience
We leverage technology at every step of the engagement to ensure candidates are informed, connected, and advancing to the next meaningful step.
Nurturing top candidates 24/7
Instant interview scheduling
Automated reminders through mobile/text
Guaranteed follow-up after each interview
Curious What Other Clients
Are Saying?
Top-rated LinkedIn Reviews
Ron has been an incredible asset to my job search. I got great tips and personal coaching for preparing my LinkedIn profile as well as preparation for interviews and offer negotiations. Ron helped me create my personal value proposition that helped get me the job I really wanted! Ron has great energy, incredible experience, and an extensive network I could tap into that helped me make new contacts and talk with people in my industry. I highly recommend Ron if you're looking for your next opportunity or transitioning into a new career.
Mark C.,
Sr Director, Finance Systems | Proofpoint
I connected with Ron while I was transitioning in my career, and while I had turned down every career coach or job placement team in the past, it was evident after our first conversation that Ron and his team operated differently. While working together, Ron and his team were highly engaged with me on a continual basis and made themselves available whenever I needed assistance. I was already a highly sought-after professional, but without the help of the Get Hired Now! team, I do not believe I would have had as great an experience as I did. I successfully pivoted, moved up, and am happily in a field I love with a fantastic company and great colleagues. I would recommend absolutely everyone going through a career transition to at least speak to Ron and his team. I'm sure you'll come to the same conclusions I did.
Matt L.,
Head of Sales | TAZI AI Systems
If you are looking to find a job during this pandemic, coach Ron is an invaluable person to enlist in the effort. I have worked with him for a decade now, and watched him firsthand assist and help both of my millennial sons their first job within 6 months of their search. He provides the kind of specific, authentic coaching needed during the stressful dating-like ritual of job seeking. It helps that working with him is also a blast— he brings it all to the party. His passion, empathetic listening, broad super strong network and extraordinary use of the technology are required now to pursue and land a role. If you, your children, or anyone you know is frustrated, anxious, or perplexed about what to do next to land a role, you need to work with Coach Ron. A worthwhile investment in your future.
Ron S. ,
Brand Ambassador | MarketScale
Coach Ron was an integral part of my job search and provided a refreshing perspective on how to approach the process. His flexibility in aligning our schedules, as well as his positive demeanor, led to an enjoyable experience. I would highly recommend Coach Ron Nash to anyone needing clarity or vision in presenting the best version of themselves.
Erick L.,
Partner Experience Manager | Amazon Web Services
Coach Ron is a people person and brilliant career coach who knows how to get the best out of people. His program offers the breadth and depth needed for anyone at any career stage. I worked with Coach Ron for over 4 months, and throughout the process, he was always available to answer my questions and guide me. He was personally involved in a lot of the decisions I made during my transition and was a great sounding board. It is impressive what Coach Ron has built; his staff, amazing network, and the broader GHN community were all available to help me. Above all, Coach Ron is genuinely interested in seeing you succeed. I highly recommend Coach Ron!
Balaji J.,
Data Engineering and Analytics Leadership | Facebook
I would strongly recommend working with Coach Ron and Nicole for anyone looking for guidance in their career. They approach all your job search questions with a holistic lens, focused on identifying your priorities and personal value proposition. Throughout the job search process, they were always cheerleading and celebrating successes, even the small wins (like getting that first job application in). Coach Ron and Nicole continue to check in and support me. I truly value their incredibly personal approach to the stressful job search process and the numerous connections I have made in the GHN network.
Samuel L.,
Finance & Strategy Manager | Salesforce
I highly recommend Coach Ron and am grateful to have had the opportunity to work with him as a client. He genuinely cares about you achieving your career goals. During our consultation for his career coach program, I informed him I had an upcoming interview for a dream job. He encouraged me to see the opportunity and reached out when time opened up in his schedule to give me interview tips. He took the time out of his day to help me, going above and beyond my expectations. Thankful for his connection!
Nicole C.,
Assistant Director of Admission | Stanford University
I had the privilege of working with coach Ron as both a client and a mentee. Not only did Coach Ron provide me with expert advice on building my LinkedIn profile, but he gave me the confidence and networking skillset which allowed me to land my dream job. Coach Ron also connected me with his extensive network which provided me with unique opportunities to meet amazing people. Along with his outstanding breadth of knowledge, Coach Ron is an exceptionally fun to work with! His passion and enthusiasm are infectious, and he is a fantastic role model. I HIGHLY recommend that people talk to coach Ron regarding any aspect of their career. Thank you so much Coach Ron!
Trent G.,
Analyst | Back Bay Life Science Advisors
The team and programs at 'Get Hired Now!' are innovative and relevant, especially during great opportunities. My schedule was very demanding, and Coach Ron made sure that time constraints were not an issue and that I would benefit from the entirety of what he and his team had to offer.
Lior Cohen,
Amikam Director | ICE
We weren't even halfway through GHN's program when I started receiving requests for interviews. Working with Get Hired Now! made me more confident, and I developed actual interview and interpersonal skills that translated into success during interview rounds. In the end, I got 3 amazing offers, all of them exceeding my expectations, and now I'm on an accelerated career trajectory. Don't get stuck in your career; get quality coaching from GHN and get your career on track for good!
Jeremy Salles,
Senior Workplace Services Leader | Sony Interactive Entertainment
A program where personal attention is provided through a structured approach from "Unique Value Proposition", resume writing, interview preparation, and 1 on 1 feedback on how to approach individual companies and tailor onsite preparation and offer negotiation. It's not a one-dimensional approach, which I liked about the program; coach Ron helped me create a multifaceted problem-solving approach that helped me look at the job search process from different dimensions. I am so happy with the outcome.
Lavanya Rajendran,
Program Manager | Workday
As CRN's headline says, "My superpower is helping people" I can vouch for this 100%. The team developed a wonderful resume, cover letter, and networking cards for me, so when I was out networking, I'd have something small yet tangible to leave with those I connected with. If you are at crossroads in your career or looking for guidance to progress forward.
Shruti Parikh,
Associate Director Product Development | Takeda
9:05
2:53
1:49
1:46
12:36
3:17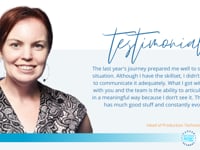 16:16
1:01
Ready To Scale Your Team The Smart Way?
Book a consultation with our recruiting team and together we'll scope a partnership
that's a win for all.