Building outstanding
teams who grow
thriving businesses.
Recruiting Partnerships Include…
We believe super star candidates aren't found, they're made.
What's our
secret process?
By coaching our candidates through the STARR process ahead of meeting your company, they are ready to shine. And, it's by design.
Rather than making cold introductions, as a recruiting partner we will introduce you to pre-vetted, pre-screened, and pre-coached candidates who know the STARR interview framework.
How Does Meeting Onsite-Ready, STARR Candidates Help Your Hiring Process?
57% Reduction in the Number of Candidates Interviewed. ( If you are an internal recruiter, you can increase your hiring ratio by leveraging our candidates.)
63% more likely to make an offer to a who is onsite STARR-ready.
0% upfront cost to receive an onsite-ready STARR candidate! (Recruiters, are you paying attention to this?)
2-3 candidates make it to the final round. 100% of these are STARR prepared in Tech Leadership interviews.
60% of hiring managers will hire confident candidates who are practiced in interview skills.
87% of who had three onsite job interviews received job offers.
Job Families of Specialization Include:
Relationship Based
Recruiting
CEO & Principal Recruiter Ron Nash has consulted with Fortune 50-500 companies including Amazon, Facebook/META, Samsung, Microsoft, Allergan, Herbalife, and The Anthony Robbins Companies. His expertise and skill to affect company culture, add specialized team members and create custom tailored strategies has led to the success of organizations as well as the achievement of career goals of countless individuals. Combining his experience in recruiting, headhunting, and HR consulting, CRN has built a top notch team of recruiters who are trained in relationship-based recruiting.
Simulate Tough Interviews
for Candidates
Our candidates are prepared for prime time with the 7-Step STARR interview process. This means that when you meet our candidates, you are meeting individuals who are not just pre-screened but pre-prepared for the actual interview loop. By performing simulated interviews with candidates before they meet you, we save you more time in your hiring cycle.
Deploy STARR-Interview
Trained Recruiters
We believe STARRs are made, not born. Every recruiter on our team undergoes extensive training in the STARR interview framework. Additionally, recruiters receive ongoing training in the best practices for behavioral based interviewing and applied positive psychology to deliver the best candidate experience.
Mine the Private
Career Network
For 2+ decades, we have been curating a private career network with high net worth individuals in the technology field. As recruiters, this gives us first-access to unlisted jobs as well as provides us with a deep referral network for enhanced candidate placement options.
Commitment to an Exceptional Candidate Experience
We leverage technology at every step of the engagement to ensure candidates are informed, connected, and advancing to the next meaningful step.
Nurturing top candidates 24/7
Instant interview scheduling
Automated reminders through mobile/text
Guaranteed follow-up after each interview
Curious What Other Clients
Are Saying?
Top-rated LinkedIn Reviews
9:05
2:53
1:49
1:46
12:36
3:17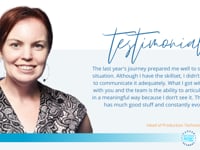 16:16
1:01
Ready To Scale Your Team The Smart Way?
Book a consultation with our recruiting team and together we'll scope a partnership
that's a win for all.